ClicAutomate is built on a script-less test automation approach which expedites automation testing. It also supports agile testing with the ability to handle ever-evolving changes in requirements, test cases and application UI. Very low learning time and high pace test creation makes ClicAutomate the most preferable test automation tool; reusability, traceability and the need of no technical knowledge makes it an exceptional.
Create Automation Test Case at Ease Without Writing a Single Line of Code
Test Cases
ClicAutomate ObjectSpy can be launched on any browser
ClicAutomate Object Identifier easily captures any object in a web page including dynamic objects
'Find Element' feature helps to verify the captured object
Script-Less automation test case creation
Change the sequence of test steps using 'Shuffle'
Reusable test steps and Copy test case
Auto Compare of test case details across versions
Import or use existing test data to execute a test case with multiple sets of data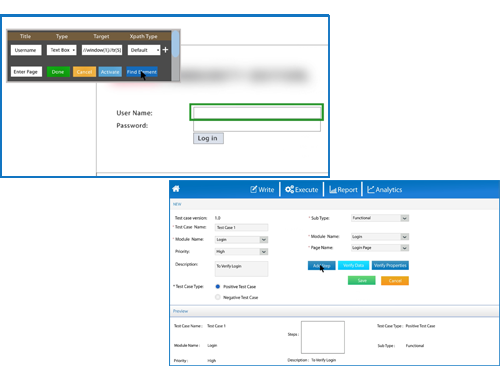 Parallel Execution and Scheduler for Simultaneous Test Execution Across Browsers and Platforms Along With Auto Bug Posting.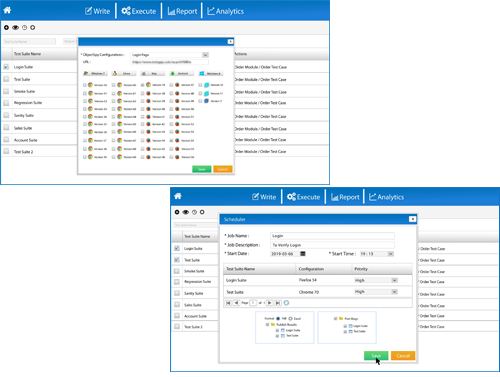 Test Execution
Create, Edit and Copy Test Suites for test execution
Change test case execution sequence
Parallel Execution to execute test suite(s) across browsers, browser versions and platforms simultaneously
Test Manage will help to keep a track of the progress
Schedule test execution with automated bug posting and results sent as email
Detailed Drill Down Results with Annotated Screenshots for Passed and Failed Test Cases.
Test Results
View Grid and Graphical Reports
Drilldown test results with screenshots for every individual step
Annotated screenshot for Passed and Failed test steps
Iteration wise test results with auto compare option
On click bug posting into defect tracking tools