As digital transformation progresses at a rapid pace, there has also been a simultaneous increase in the difficulties faced in using the web. The harsh reality is that businesses are spending large amounts of money to drive customers to their websites, but unable to retain them due to customer dissatisfaction.
The main cause of this issue could be not properly analyzing the various reasons of customer dissatisfaction. Here comes an urgent need to consider many ways of analyzing the customer behavior. The solution is to understand customer experience significance and perform effective Customer Experience Testing. It is not only about technology, design or usability all the time but it is also about customer experience which is most important for businesses. A vital factor to be considered is to understand the customer pulse and for that, performing Customer Experience Testing is extremely necessary.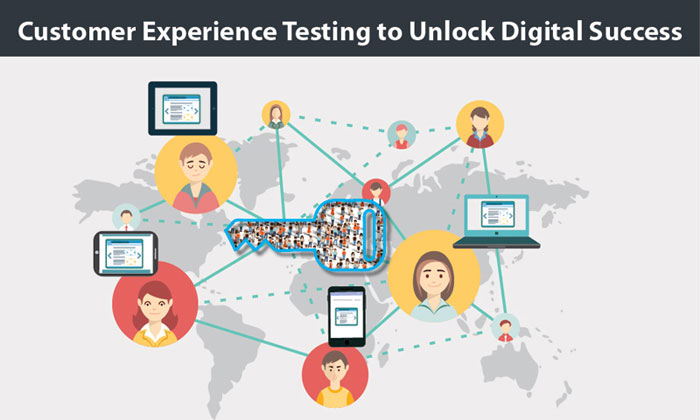 In User Experience Testing, the usability professionals are aware of the architecture and general navigation, which makes it simple for them to undertake the functional tasks which result in missing out identifying primary faults. In Customer Experience Testing, there are a large number of peripheral variables embedded, which helps in recognizing the major issues in an application.
Going over and above conventional testing
Currently, digital clientele can select from a wide range of items, applications and transaction channels. If all the issues are efficiently addressed, the product reputation will be directly enhanced as all the transactions in a digital environment are closely associated with consumer loyalty, word of mouth, brand devotion and recurring purchases. Thus, it has become obligatory for businesses to distinguish and employ an effectual Customer Experience Testing plan at the time of product development stage and also in the post production phase.
Developing a powerful Customer Experience approach
To develop a powerful customer experience approach, businesses must recognize consumer behavior that encompasses both rudimentary and latent characteristics along with well-designed physical traits. Constituents like navigation, usability, ease of access and performance are also few main components of testing approaches. Additionally, critical human conduct must also be addressed from the perception of the end-customer experience, including sentiments, attitude and cultural qualities.
Constituents to consider for Customer Experience Testing
Organizational maturity
Emotional traits
Analytics and Omni-channel
Variants of Customer Experience Testing
Knowledge of Crowdsourcing
Organizations can leverage crowdsourcing to receive tangible customer feedback before launching the product. This can be done by selecting a crowd that is both socioeconomically and culturally identical to the end customer. Crowd-testing could be leveraged at several points across post-production period and product development life cycle depending on the test assessment conducted. Testing must be done on varied parameters including navigation, UI, design, functionality and core aspects.
In-House Testing
The primary advantage of in-house testing is the capability to control the entire process and address the issues instantly. The Testers have to incorporate the process of thinking from customer perspective into their testing which is now predominantly technical. In other words, the Testers have to really become customers and think like them. The customers' preferences, likes and dislikes, expectations in terms of Functionality, Performance, and Security of the applications need to be clearly understood and Testing has to be performed to suit the customer requirements. This enables to tailor the Testing system according to the customers' expectations.
Closed Customer Group (CCG) Testing
This is a type of Testing performed by a selected close group of individuals which can be leveraged by organizations because this close group can be considered as the actual customers. This kind of testing approach will help testers in testing applications only on their target audience. The core benefit of this approach is to get to know what the potential customers feel about the products, the customer likes and dislikes etc. Additionally, the testing cost and time can be reduced because testing is done only by a select group of testers. This is done by direct interaction between the software group and the individuals that would be leveraging the system.
Last words
Digital firms must give utmost importance to Customer Experience Testing because this will be a continual and endless journey. As the digital world evolves with the arrival of new devices, options and channels, so is Customer Experience Testing.
Furthermore, a slight shift which focuses more on customer experience is imminent in the way Software Testing needs to be performed. With this new shift, the multiple approaches of Customer Experience Testing like Crowdsourcing, In-house testing, Close Customer Group (CCG) Testing etc. need to be seriously taken into account so that customer satisfaction can be ensured and customer retention becomes possible.