Test automation is a crucial solution required to maximize the effectiveness, efficiency and coverage of software testing and to focus on predetermined quality. With the rapid and ever changing technologies, it is huge challenge for any enterprise to keep maintain and enhance the quality and efficiency of application development. Most of the enterprises today still neglect testing of their projects due to time or cost constraints. This results in inadequate product quality, followed by customer disappointment, increased overall quality costs and ultimately damage of company reputation. The testing team that still perform manual testing in traditional method will literally put a hard effort to identify all the possible bugs before the product is being launched or delivered.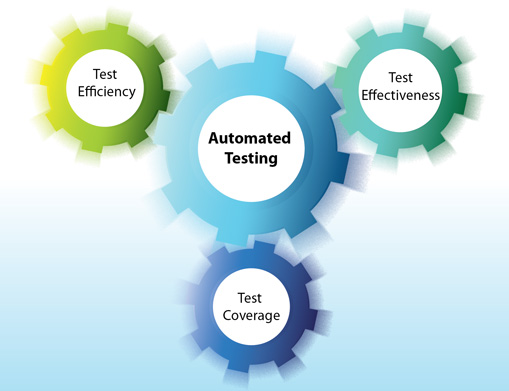 A right automated testing tool/solution can help test engineers to detect latent faults in an application along with all quality bugs in a short time frame that driving an effective and efficient testing.
Enterprises need to perform seamless and effective testing at all the phases in the development lifecycle to achieve to test coverage. Inadequate test strategy, underestimated effort of test case creation, delay in testing and test maintenance will keep increase cost of testing proposition. Enterprises need to cover testing attributes such as functional, performance, security testing to identify the flow of the applications from end-to-end. Automated Testing is only the possible solution which can generate many advantages, however, it is essential to have goals in place for automated testing and it should be implemented only through expert advice.
An appropriate and affordable automated testing solution is required for the enterprises to complete projects successfully while saving money, time and reduction in the workforce. Automated Testing can reduce the time to run repetitive tests from days to hours and improves accuracy. Automated Testing can easily execute tons of different test cases and during every test provides coverage which is not possible in manual testing.
Partnering with highly efficient automated testing provider like ClicTest can help to address the challenges of constant change in product and let's companies to dramatically enhance the quality while cutting down testing costs. ClicTest is a fast emerging product-enabled Independent Software Testing Services Company. ClicTest can provides feasible and best-in-the-breed automated testing solutions for the most crucial application issues that can reduce testing time and effort within the budget.
ClicTest's automated testing solution is built on well-designed proprietary framework through effective tools and leveraging latest technologies that make sure it meets the companies automated testing objectives within their budget. ClicTest's test automation solution is big deal win as it helps enterprises to migrate manual test cases to automated test case with ease. ClicTest can address a wide range of software testing issues that continually faced by IT industry, developers, QA teams.
To know more about automated software testing solutions, please write to us at info@clictest.com