The goal of every IT organization is to deliver a quality software to their clientele, and to complement their goal they give the highest priority to Software Testing. Automation testing acts as an accelerator to their time to market by saving time and effort, and manual testing will remain as the core for quality software delivery.
There are many reports and blogs published in the recent times mentioning " Manual Testing will be killed by Automation Testing ", but it won't be the scenario.
Manual test cases are provided as an input for automation test cases, then automation testers develop automation test scripts leveraging the provided manual test cases. Automation Testers are also called automation test developers as they focus mostly on writing code to automate test cases.
What's the difference between Manual Testers and Automation Test Engineers?
Automation test engineers use their scripting capabilities to create automation test scripts; whereas, manual testers aim to achieve maximum functional coverage, so they use testing skills to test functionality of "Application under Test" in all possible ways. Automation test engineers are not so inclined towards creating test scenarios to achieve maximum functional coverage instead they focus on automating provided test scenarios.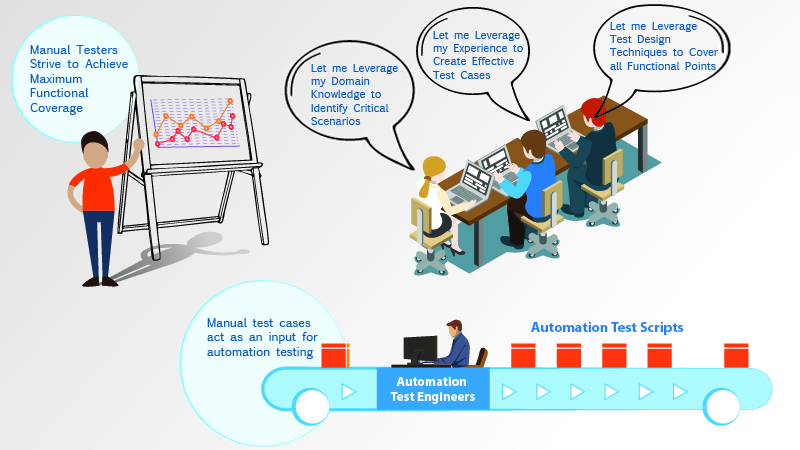 Can Automation Testers dominate Manual Testers!!
No, not at all. Automation test engineers leverage automation testing tools to automate the execution of test cases instead of doing it manually. They automate only the repetitive process of executing regression test suites. Whereas, Manual testers strive to achieve maximum functional coverage while testing an application.
Manual testers leverage their domain expertise to identify critical test scenarios that addresses critical business scenarios.
Manual testers leverage their experience to create effective test cases to cover all the identified test scenarios.
Manual testers leverage Test Design techniques to cover all the functional points to assure that "Application under Test" works functionally as expected.
How about Empowering Manual Testers to do Automation Testing?  
If we empower manual testers to do automation testing, then the quality of software delivery would be improved along with time to market. Script-less automation testing tools like "ClicAutomate", which enable creating automation test cases without writing a single line of code empower manual testers to do automation testing.
If a manual tester performs automation testing, then the following can be achieved
Reduced time on Software Testing
Reduced cost on Software Testing
Improved Test Coverage
Faster time to market
"Let's Recognize the Importance and Skillset of Manual Testers and Leverage them to Deliver Quality Software".